Contact the application vendor for assistance
Contact the application vendor for assistance
---
Did you encounter the following error message?
Cannot start the application
Cannot download the application
The application is missing the required files
Contact application vendor for assistance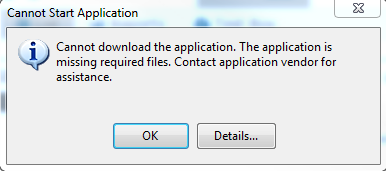 If you received these messages, several possible solutions might help you solve this independently.
If the issue only occurs when using Google Chrome, but not on any other browser, use this solution instead.

If no error message appears, try the suggested solutions in this article.
Using Windows 10? You need to allow Panaya apps installation for Windows 10
Solution 1 - Delete the ClickOnce cache
Solution 2 - Add Panaya to your Trusted Sites
Solution 4 - Security settings are blocking Panaya
It might be that a proxy is used within your network, preventing Panaya's player and recorder from working correctly.
If you have an anti-virus, VPN, Remote Machine, or Virtual Machine, you might need to contact your IT administrator and request to add Panaya to the safe domains list. Sites on this list do not require a proxy or any other security permission.

Please add *.Panaya.com to your white-list or your exceptions lists (e.g., proxy, anti-virus, etc.)

Alternatively, add the following URLs to your white-list:
my.panaya.com or emea.panaya.com
cdn.panaya.com
reports.panaya.com
sso-emea.panaya.com
No Admin Rights? Cannot proceed with the above solutions?
Contact your IT Administrator for assistance.
Contact Panaya Support
If you tried all of the above solutions with no success, contact Panaya Support.
For us to assist you quickly and efficiently, please provide the following when opening a ticket:
The name of the Panaya project you are working with.

Error message syntax: Click on the Details button on the error message. Copy and paste the error message to a file and send the file to Panaya Support


The exact scenario and steps performed before receiving the error message.
Do other users receive the error message as well?
Please attach the log file located under C:\Users\username\AppData\Local\Temp\PanayaPlayer\Log
---
What's Next