Testing Status Summary Widget
Testing Status Summary Widget
---
The Testing Status Summary Widget displays the testing status of a given cycle, folder, business process, executed cycles, or the status of all cycles in your project.
Users can click on the pie pieces to drill down to Tests, Steps, and Defects.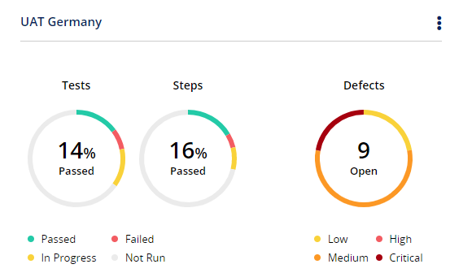 To edit the widget -
Click on and then select Edit

Here is what you can define in the Widget setup -
Title
Sub Title
Display -


All Cycles
Display the status of the entire project

Executed Cycles Only - select this option to only show launched cycles

Specific Path
Select this option to display the status of a specific cycle, folder, or business process in the tree.

---
What's Next