ForeSight Chrome Extension Setup
ForeSight Chrome Extension Setup
---
Prerequisites
Access to an active project in Panaya
Extraction from the authenticated Sandbox org to which the project is connected
Note
If you have an older version of Panaya's ForeSight Extension, it is advisable to uninstall it before installing the new extension.
Good to Know!
In the case of a Sandbox refresh, a new extraction is required to access the metadata of the newly refreshed Sandbox Org.
Supports only Lightning experience
If working in Salesforce Classic, right-click an object and select "Discover with Panaya."
Download and Install
Download and install our Google Chrome / Microsoft Edge Extension
Click Add to Chrome to install it on your browser
Pin the extension to the browser's action bar. Do so by opening the extension's menu and clicking on the pin icon next to Panaya ForeSight extension.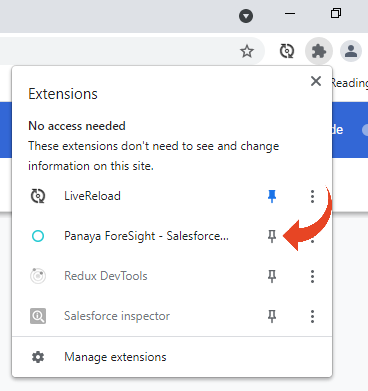 Extension Settings
Login to your ForeSight account and select an active project

2. On your browser's action bar, right-click on Panaya ForeSight to open its context menu and click Options 3. On the extension's options pop-up window, select Panaya Site (my.panaya.com or emea.panaya.com, based on your standard login URL) and the Project ID (located in the address bar)
4. Click Save
---
What's Next