Share feedback
Thanks for sharing your feedback!
This article describes how to manually pass or fail a Test Step without using the Panaya Testing Tool. You can attach one or more images or documents to support your manual run.
Select the Steps tab (1)
Highlight the Step (2) you wish to run manually
Use the Ctrl or Shift keys to multi-select Steps
Click on the Manual Run button(3)


Select whether the Test had Passed, Failed, or is In Progress (4)
It is highly recommended to fill in the Actual results (5) and relevant comments.
Add a Comment (6) for any stakeholders involved, such as the Reviewer
You can Drop or Paste multiple images or documents as Evidence (7)
To learn how to enforce adding images or documents as evidence, click here

Click Save or Save and report the defect
Manually passed or failed Steps will appear with the corresponding uploaded attachment as Test Evidence under the All Runs tab (Highlight a Step and then select View Step).
Manually passed or failed steps with no attached evidence will appear in the All Runs tab with no corresponding evidence, as shown below.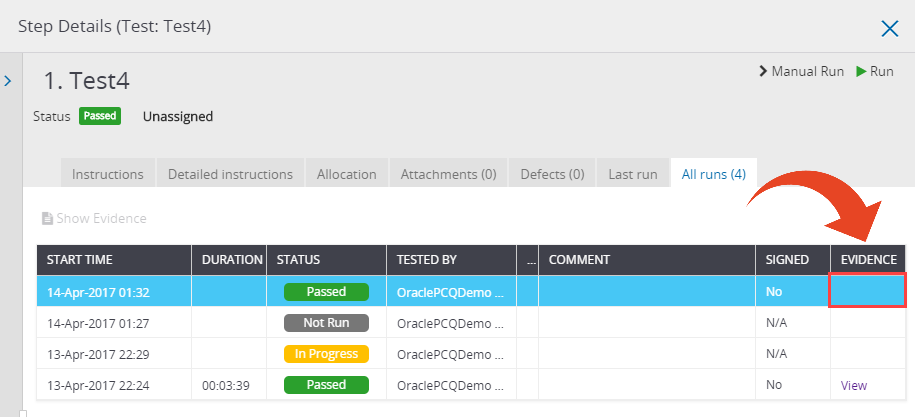 Good to Know!
Select multiple Steps using the Ctrl or Shift keys, then use the Manual Run button to pass or fail multiple Steps
---
What's Next